USAGE RULES
The background and link graphics are NOT free for use.
Please be nice and leave them alone.
These graphics have either been created by myself, given to me for inclusion, or collected over the years at Free For All graphics collections.
As far as I know, no copyright laws cover these graphics - they have been offered Free for Use, so you may use them on your personal websites as you wish.
A link back to my graphics section
http://members.tripod.com/virtaus3/graphics
is necessary.
It may be a text link or a graphic link, but it must state which
graphics belong to Virtual Australia.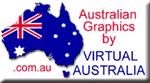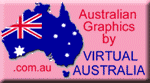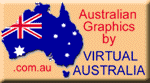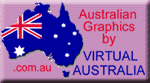 Please link back to http://members.tripod.com/virtaus3/graphics
I in no way claim copyright to ALL of these graphics. As stated above, these graphics have come from a lot of different places.
If you find a graphic on our site that you believe is your copyrighted material - please email virtualaustralia@yahoo.com to let me know - and it will be removed or credited to you asap.
That's all there is to it! Thanks and enjoy!
Virtual Australia

---
---
Problems/Broken Links can be reported to
virtualaustralia@yahoo.com
The owner and author of this website is not of indigenous descent - and therefore will not provide information on the indigenous viewpoint. This is best left up to the authors of Indigenous websites. I would not want to offend a wonderful culture by writing something incorrect.
All text and graphics unless otherwise stated are ©1998-2000 Kim Holden, Virtual Australia.
If you believe any of the graphics or text to be copyright to you, please email me to discuss the matter.
All rights reserved. No part of this site may be reproduced in any form without the express permission of the owner of
Virtual Australia or the copyright owners of the included information.
Any offenders will be prosecuted to the full extent of the law.