This is my freebie and "grow with me" area. I have created several different areas which you can join such as my webring, my Top 50 Aussie Site competition and much more. This area will grow just like the rest so please keep checking back!

I have found that there no good Australian graphics on the Internet. Most websites contain the same if not similar images - and this must be fairly boring for anyone browsing for Genuine Australian information. Soooo...

I decided to create/pull together a set of Australian graphics for use on PERSONAL Australian websites. All of these graphics have been created by me or sent to me from other sources. As far as I know there is no copyright on these graphics. If you find a graphic that you believe has your copyright on it - PLEASE let me know so I can either remove it or credit you with the copyright!

This competition aims to bring a list of the 50 most visited and best liked Australian sites together in the one place. There are no prizes - except many more visitors to your website the higher up the list you are! The only rule for entry is that your website is Australian made or contains Australian content. And best of all, it is TOTALLY FREE to join!

The Virtual Australia Webring was created on 15 September 1999 to help children around the world complete their school projects.

Does your website contain information about anything Australian that could help children with their projects? Does your site not have any "adult only" content? Do you want to receive more hits to your site? If the answer is "Yes" - then this is the Webring for you! Help the children of the world and sign up now!

Virtual Australia web awards are given out to websites that I think are very well designed or contain excellent information that would help or amuse or educate Australians. Why not try your luck! Not every site receives an award - and no argument will be entered into about my final decision.















| | | |
| --- | --- | --- |
| | | |
| | | |
| --- | --- | --- |
| | | |
[ Virtual Australia | The World We Live In | The Things We Do ]
[ The Natural World | The People We Are | Australia Through Time ]
[ Online Australia | Fun for Kids | For Webmasters and School Projects ]
---
---
Problems/Broken Links can be reported to
virtualaustralia@yahoo.com
The owner and author of this website is not of indigenous descent - and therefore will not provide information on the indigenous viewpoint. This is best left up to the authors of Indigenous websites. I would not want to offend a wonderful culture by writing something incorrect.
All text and graphics unless otherwise stated are ©1998-2000 Kim Holden, Virtual Australia.
If you believe any of the graphics or text to be copyright to you, please email me to discuss the matter.
All rights reserved. No part of this site may be reproduced in any form without the express permission of the owner of
Virtual Australia or the copyright owners of the included information.
Any offenders will be prosecuted to the full extent of the law.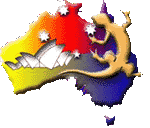 kids stuff, free stuff, free graphics, awards and much more! virtual australia, flora, fauna, legends, slang dictionary, traditions, entertainment, cuisine, recipes, time continuum, history, icons, animals, birds, flowers, constitution, anthem, waltzing matilda, christmas, australia day, anzac day, poetry, poems, free graphics, free animations, free websets, prime ministers, first fleet, explorers, pioneers, top sports, koalas, bandicoots, bilbys, bilbies, cuscus, tasmanian devils, dingos, echidnas, sugar gliders, kangaroos, marsupial moles, numbats, planigales, platypus, potoroos, quokkas, quolls, blue bonnet parrots, brolgas, brush turkeys, budgerigars, cockatiels, crimson chats, crimson rosellas, eastern rosellas, eclectus parrots, emus, galahs, cockatoos, kookaburras, first fleet, color in, colour in, penpals, art gallery, word find puzzles, lost people, geography, caves, air distances, temperature conversions, webrings, awards, mailing list, aussie gang, Seasons, Australian Flora, Australian Fauna, Australian Legends, Australian Dictionary, Australian Traditions, Australian Entertainment, Australian Cuisine, Australian Links, Australian Time Continuum, Australian Tour, Australian History, Australian Icons, Australian Fauna, Australian Flora, Indigenous Australians, Aborignals, Koalas, Platypus, Quoka, Echidna, Kangaroo, Wombat, Emu, Dingo, Ned Kelly, Frank Gardner, Yowie, Slang, First Fleet, Australian Government, Australian Anthem, Waltzing Matilda, Vegemite, Lamingtons, Holden Ute, Banjo Patterson, Australian Constitution, Timezones, Temperatures, Pharlap, Aunty Jack, Donald Bradman, Barbeque, Southern Cross, Fosters, Bundaberg Rum, Damper, Billy Tea, Great Barrier Reef, Canberra, Sydney, Melbourne, Adelaide, Perth, Darwin, Hobart, Brisbane, Australian Capital Territory, New South Wales, Victoria, Queensland, South Australia, Western Australia, Northern Territory, Tasmania, Australian Flag, christmas in australia, email santa, santa claus, kids, stuff for kids, fun for kids, santa's guestbook, carols, recipes, games, stories, carols by candlelight, christmas beetle, puzzles, memory games, word find puzzles, javascript, slide puzzles, colour in, color in, six white boomers, reindeer, santas elves, elf, presents, xmas, december 25, days until christmas, crafts, decorations, santas sleigh, north pole, santa sack, st nicholas, merry christmas, twas the night before christmas, Slang, Australian Slang, Dictionary, Australian Dictionary, Rhyming Slang, Gday, OZ English, OZ, language, Australian, culture, Australian Culture, words, slang words, australian words, Virtual Australia, Australia, Australian Flora, Australian Fauna, Australian Legends, Australian Dictionary, Australian Traditions, Australian Entertainment, Australian Cuisine, Australian Links, Australian Time Continuum, Australian Tour, Australian History, Australian Icons, Australian Fauna, Australian Flora, Indigenous Australians, Aborignals, Koalas, Platypus, Quoka, Echidna, Kangaroo, Wombat, Emu, Dingo, Ned Kelly, Frank Gardner, Yowie, Slang, First Fleet, Australian Government, Australian Anthem, Waltzing Matilda, Vegemite, Lamingtons, Holden Ute, Banjo Patterson, Australian Constitution, Timezones, Temperatures, Pharlap, Aunty Jack, Donald Bradman, Barbeque, Southern Cross, Fosters, Bundaberg Rum, Damper, Billy Tea, Great Barrier Reef, Canberra, Sydney, Melbourne, Adelaide, Perth, Darwin, Hobart, Brisbane, Australian Capital Territory, New South Wales, Victoria, Queensland, South Australia, Western Australia, Northern Territory, Tasmania, fauna, wildlife, animals, mammals, marsupials, reptiles, spiders, koalas, kangaroos, platypus, numbats, bilbys, cuscus, bandicoots, tasmanian devils, dingos, echidnas, sugar gliders, marsupial moles, numbats planigales platypus, potoroos, quokas, quolls, red back spiders, funnel web spiders, taipans, red bellied black snakes, fierce snakes, sharks, butterflies, insects, frogs, toads, marine life, deadly animals, deadly creatures, crocodiles, turtles, emus, brolgas, black swans, lyrebirds, kookaburras, harks, eagles, turkeys,